South Woodham Ferrers and Coronavirus
Helpful Resources
The NHS website offers Coronavirus advice
The town of South Woodham Ferrers has its own Microvolunteering group which would help deliver groceries and essentials to people with the virus who have to self-isolate. They have a Micro Volunteering Facebook page. More information will be available as the situation unfolds.
Practical help is now available for extremely vulnerable people who have been told to stay indoors for a minimum of 12 weeks. Food will be delivered to your door. See https://www.gov.uk/coronavirus-extremely-vulnerable
Understanding what Coronavirus or Covid-19 is
Should you wish to keep an eye on the situation as it unfolds around the world, the website https://www.worldometers.info/coronavirus/ makes interesting albeit depressing reading.
Problems with shopping
Morrisons have launched a food box delivery service today. Vegetarian or meat options, £30 + £5 delivery. Delivered by courier so no delivery slots. Delivered by DPD so next day delivery, no delivery slots need to be booked. Visit : https://www.morrisons.com/food-boxes/

Boxes of fruit and veg available outside the Railway Pub in South Woodham Ferrers. CM3 5NG
There is an amazing range of fruit and veg available every day, this includes potatoes and eggs within the hampers. Discount for keys workers when correct identification is shown.
£20 per hamper
X2 for £35
Please contact if you need supplies. Phone to order a delivery: 07807681836 to make an order via text, alternatively feel free come down and collect from us direct. Maintain 2 metre spacing please. In the best interests of both recycling and our need for boxes it would be most appreciated if on delivery our driver could collect and return boxes for us.
Straight from Covent Garden, choose what you want
Another source of fresh fruit and veg is available at 12 Bakers Close, CM3 5JF. Telephone: 07812792940
Mr Darby works at the new Covent Garden Fruit and Veg Market and has created a 'mini shop' from home to help people get the fresh foods they need locally. Mrs Darby will make up a box containing what you would like if you phone her and collect later. Self-isolating people may be able to get a micro volunteer to collect for you if you are unable to get out.
Please let your friends know about the various ways to buy food to supply local elderly relatives and neighbours who are unable to get out and collect them. Perhaps send them a gift box?
It might be worth considering shopping online at the following shops that deliver:
Iceland - first hour of opening daily in person for over 70s or vulnerable. Nearest store is in Wickford
Morrisons- Monday-Saturday, first hour. Nearest store is in Wickford or Maldon
Cook -
Waitrose - first hour of opening daily forpeople aged over 70s or vulnerable. Nearest is in Billericay
Tesco - nearest store is in Basildon or Maldon. Open 9:00am-10:am on Mondays, Wednesdays and Fridays for elderly and vulnerable.
Sainsburys - first hour of opening on Thursdaysfor elderly and vulnerable only. Vulnerable includes young people with disabilities or illnesses.
Asda in South Woodham is opening between 6:00am and 9:00 am on Fridays for elderly and vulnerable only.
Marks and Spencer online food - Mondays and Thursdays, first hour of opening
Old Woodham Road Farm Shop is well stocked with fruit, veg, pet food, meat, fish, delicatessen items. Phone through an order (01268768704) and ask a micro volunteer to collect it if you are unable to.
People willing to help with delivering shopping in South Woodham Ferrers

Community minded people with time on their hands because they have less work have offered to fetch shopping, prescriptions for others, often for just the cost of the petrol.
Richard Roberts 07725233074 is a gas engineer with time on his hands at present. He is happy to collect shopping for those who cannot fetch it for the cost of the petrol. He is also happy to do any gas engineering work and defray invoices until things return to normal.
There are also others such as the Happicabs taxi service who offer a paid-for service with exemptions for housebound over 70s
Please let us know if you would like to be added to this list and your charges
Social Distancing
The government has issued guidelines on social distancing to try to prevent the spread of the virus. It is critical to read and follow this to ptotect the edlerly and vulnerable in Britain.
The more that we isolate ourselves and keep at least 2 metres away from other people when we go to the shops, the sooner the Coronavirus crisis will be over. Social distancing reduces the spread.
Infection Control
Medics and dentists are very used to infection control in their daily work. There is a wealth of resources on the web to explain more about the Basic Principles of Infection Control.
Essentially, it is a case of washing hand thoroughly
Not touching your face, viruses can enter through mouth, nose, eyes
Not allowing droplets from your mouth or nose to enter the atmosphere by using a handkerchief/tissue and disposing of these appropriately after use
How long can Covid- 19 live outside the body
| | |
| --- | --- |
| 3-6 hours | Air |
| 4 hours | Copper |
| 24-48 hours | Cardboard |
| 48-72 hours | Stainless steel or similar metals |
| 72 hours | Plastic |
Daily Considerations
Catching Coronavirus is like Russian Roulette, we do not know if the next supermarket trolley handle we push, or button to open a door on a train is contaminated. We do not know if the shelf stacker is a spreader. Viruses can live outside the body for up to 72 hours depending on the type of surface they are on. They are able to last longer on hard non-porous materials such as metal. The golden rule is to perform your activity, shopping or whatever you are doing, remember not to touch your face and to wash hands thoroughly with soap and water immediately afterwards. Carry hand sanitizer in the car to clean hands upon entering, before you touch the steering wheel.
Consciously thinking about what our hands touch is a bit of a discipline that we have to get used to during this difficult time.
Single use disposable medical gloves may be useful for individual procedures such as shopping or filling the car up with petrol.
Try to shop online or go shopping at quiet times when there are few people about. There will be less chance of virus in the air first thing in the morning.
By the 16th of March, online shoppers were complaining that it was impossible to obtain a delivery slot. Alternative options are to shop from smaller shops such as Spar, One Stop, or the Farm Shop on the Old Wickford Road.
Establish a support network
Most people are fortunate in that they have a circle of friends and family to ask for help should they need it. Older people find that their friends and family die over the years, so that an 85year old may have no one close left. If you know anyone who has no one to help them, please give them the phone number for Live Well Link Well: 0300 303 9988 or email livewell.linkwell@nhs.net
This is the time to make contact with older people in your street and check on them now and then by phone. This will keep their spirits up and ensure that they remain aware of what is happening and have someone to contact if they have to.
Another possible avenue of support is the Facebook Coronavirus Action Support Group.
Encouraging articles
Reading about the experience of those who became sick with Coronavirus and subsequently recovered is encouraging. It helps to know about the possible stages of the illness and how to help oneself through it.
What it can feel like to have Coronavirus
Guidance for dog owners
Some dog owners may be unsure about what to do about dog walking during social distancing or lockdown. The RSPCA offer advice.
The government ordered a lockdown from Tuesday 24th March.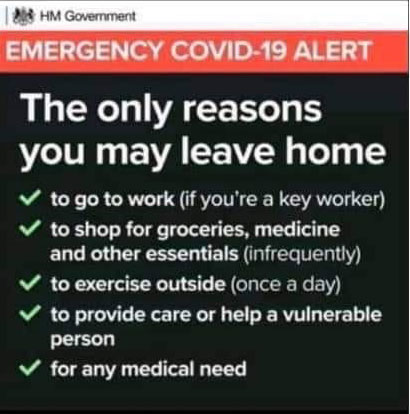 Lockdown will not make any big difference to people who were already self-isolating. In fact, looking at photographs of crowded trains and platforms in the media, it is not really making a difference at all.
Assistance with financial losses during the Coronavirus outbreak
For help in situations of financial hardship due to loss of earnings, please refer to the government website. It is always best to notify your mortgage provider before you miss a payment. The government has allowed a 3 month lapse of payments during the Coronavirus outbreak, Renters currently have a 3 month protection period before eviction notices can be raised. The most important thing is to primarily focus on health for yourself and your family, everything else can be resolved at a later date.
Coronavirus History in South Woodham Ferrers so far
The Coronavirus threat has been met with mixed reactions in South Woodham Ferrers. At the time of writing on the 22nd of March, national figures are still relatively low compared with some other European countries and we have only 45 confirmed cases in the whole of Essex plus 5+ in Southend-on-Sea. The first few were known to be in Great Baddow, Southend-on-Sea, Leigh-on-Sea, Harlow, and Redbridge. A doctor's surgery in Chelmsford was closed for intensive cleaning.
Because the Coronavirus is much more dangerous for elderly and vulnerable people who already have underlying health issues, the emotional reaction depends on the category that people identify with. The greater concern is in the elderly and vulnerable group.
The current advice is to keep washing hands thoroughly and to use hand sanitizer if water is not available.
It proved impossible to purchase hand sanitizer on Sunday the 8th of March in South Woodham; it was all sold out. Manufacturers are finding it difficult to keep up with demand. Even online orders have a waiting list.
Toilet rolls also virtually sold out as people stockpiled. Diarrhoea is not necessarily a symptom of Coronavirus but people who may have had Norovirus in the past may have made this incorrect association.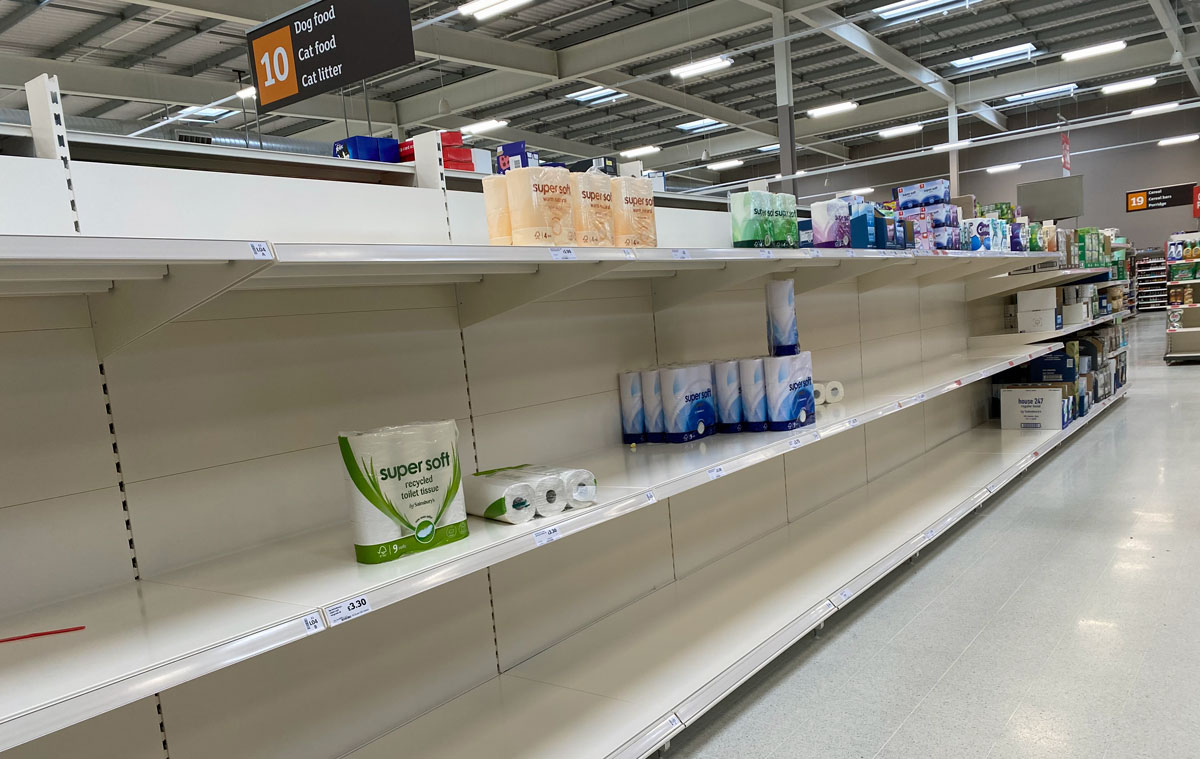 A certain amount of stockpiling of kitchen essentials such as pasta, rice and UHT milk also occurred. Perhaps the residents of South Woodham are preparing for any lockdown situation? It was interesting to note that tea bags featured quite highly in their shopping. This must be a British thing.
Stockpiling accelerated over the following week with reports of major supermarkets being stripped bare and customers waiting for them to open at 7 am to grab any new stocks.
At the same time, it was heartening that there were numerous offers of help posted on the Facebook groups.At the same time, it was heartening that there were numerous offers of help posted on the Facebook groups.
Public requests arising from the Coronavirus pandemic in South Woodham Ferrers