South Woodham Ferrers is a riverside town. A walk beside the River Crouch is to be recommended on a nice day. The river is tidal, so it looks better when the tide comes in and covers all that glorious mud. There's a well-worn path up and down along the banks of the river. It's possible to walk for a good distance along the river bank - a favourite place for dog walkers. The salt marsh, sea wall and fen areas support a diversity of plant and wildlife. People are not always aware of the dangers of sinking in the deep mud of the salt marshes. Three boys made local headlines by becoming stranded and requiring rescue in 2001. A truck crossing the Crouch at low tide got trapped in the mud in December 2018 and had to be towed out.
This photograph shows the mud exposed when the tide is out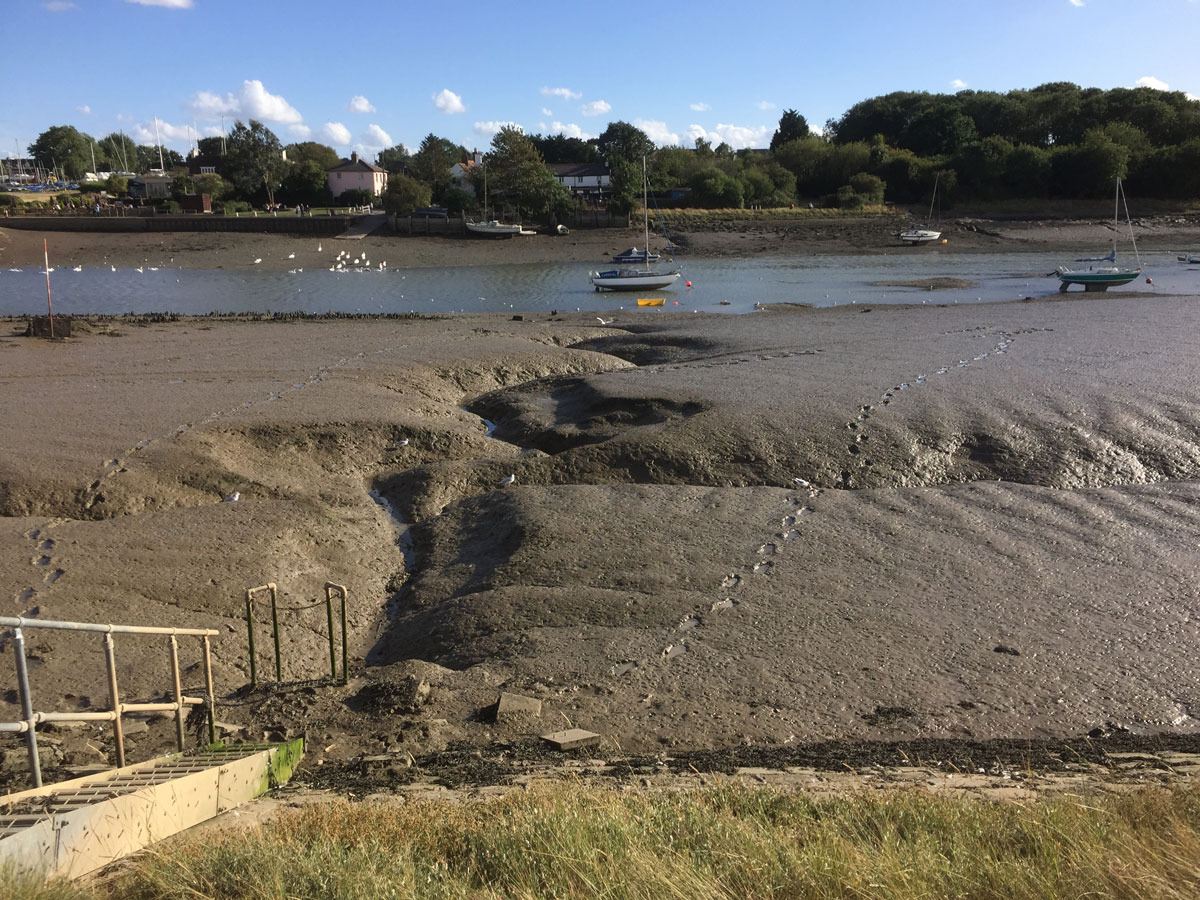 Swans, yachts, dogs and joggers
A herd of swans visits both banks of the River Crouch near the yacht club depending on where the people with food are standing. People regularly come to feed the swans accompanied by children.
The path along the river is well-worn by walkers and joggers. It is a popular place to exercise and walk dogs. There is a car park near the yacht club where people can leave their cars at no cost. The gates to the car park close in the evenings. Access to the car park is via Marsh Farm Road, past the farm tourist attraction.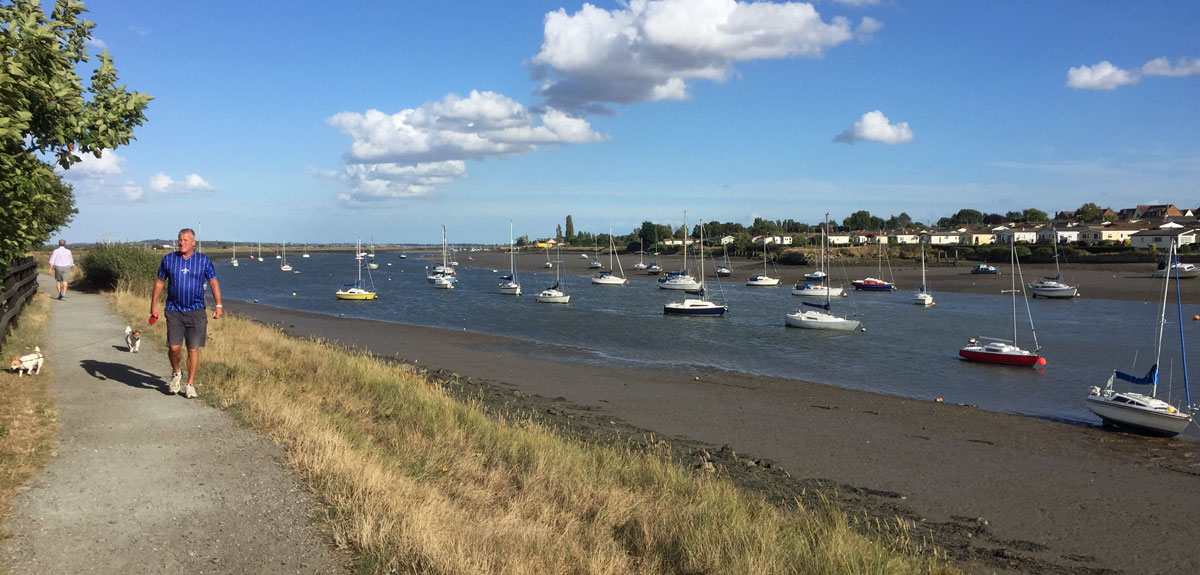 Marshland under threat
The marshes themselves are also threatened. According to various reports, 25%-60% of Essex salt marshes have disappeared in the last 50 years because of environmental changes.
Hullbridge on the opposite bank of the river Crouch
The town of Hullbridge lies just across the river. On summer Sundays there's music to be enjoyed in the Anchor pub gardens on the Hullbridge river bank. The Yacht Club also serves lunches. Anyone keen on making their own sloe gin or blackberry wine will find a good supply of both in the woods to the left of the river bank, Hullbridge side.
The river in flood
The river area may be attractive but it also poses a threat to the town from flooding. A warning siren system is in place to alert people of flood danger either from rising river or sea levels. The last serious flood in Essex was way back in 1953.....
Come and see for yourself
The summer sees the return of numerous small sailing craft dotted about the river, as people take to the water. The river is much photographed by local amateur photographers and nature creates spectacular scenery of dramatic sunsets, sea gulls swirling in the sky or prettily posing on fences.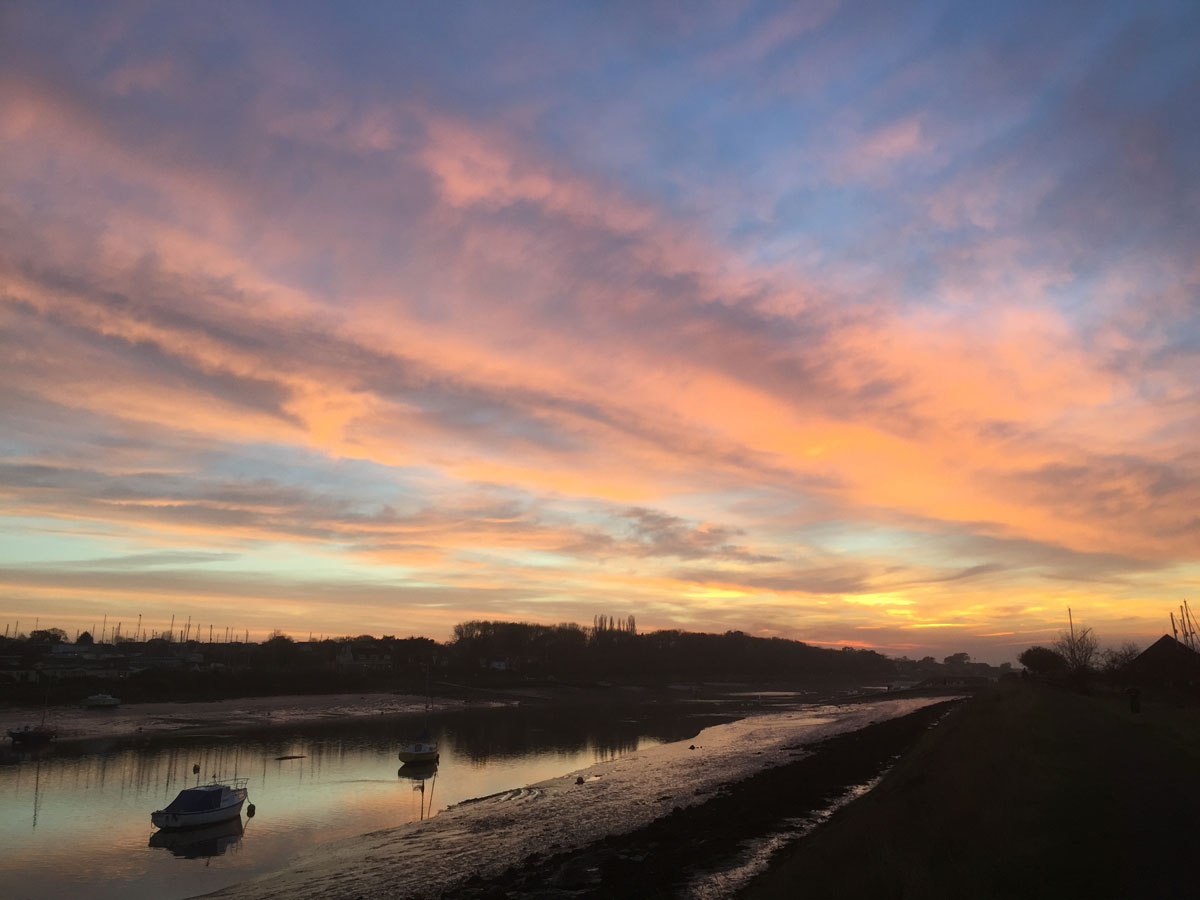 Useful Telephone Numbers
Woodham Ferrers Water Ski Club, Marsh Farm Road Tel: 01708 507983
South Woodham Ferrers Yacht Club, Tel: 01245 325391