South Woodham Ferrers Senior Citizens Page
It is hoped to put together a resource for the senior citizens in South Woodham Ferrers. This age group has time to enjoy their hobbies, holidays and freedom from responsibility although as many as 25% of all grandparents are involved in the care of their grandchildren. Do please let us know iof any groups or facilities that would help improve the lives of elderly people in South Woodham Ferrers. More about the elderly in South Woodham Ferrers and the challenges facing them.
Various events take place annually especially for the senior citizens of South Woodham Ferrers. Some of the these are run by the town council, others are organised by Asda and other local organisations.
Annual events for pensioners living in South Woodham
Christmas Party
New Year's Eve Party
Other Events
Weekly Social Club: South Woodham Ferrers Senior Citizens club meets at Club Woodham, in Baron's Road, on Monday afternoons at 2.00pm Bank Holidays excepted. Tea, coffee, cake, chat, raffle and bingo. There are spaces for new people to join.
South Woodham Ferrers Bowls Club meets on the green by Champions Manor Hall.
U3A - there are two groups of the University of the Third Age in South Woodham Ferrers. Please do not let the name deter you, no one needs to be brainy to join. They are essentially social groups that have a main meeting once a month and lots of groups and activities (some weekly) within them that include things such as walking, ten pin bowling, a lunch club, several wine clubs, art groups and much more. See Clubs for Adults in South Woodham.
If you enjoy playing cards, there are several clubs for bridge and whist that meet weekly in neighbouring villages (Bicknacre, Purleigh, Danbury, Little Baddow) and one that meets to play whist in South Woodham Ferrers Village Hall. Quite a few South Woodham Residents are members and would be able to offer a lift if you wish to play outside the town.
Film Show - monthly film show, tea and biscuits at Champions Manor Hall. This is held on the 2nd Wednesday of each month at 12.30.
Bicknacre and Woodham Ferrers Friendship Club
Just a few miles out of South Woodham Ferrers there is a Friendship Club for the over 55s and retired, which meets once a month for a meal at the Brewers Arms in Bicknacre at 7.30 pm and also on the 3rd Wednesday of each month for an afternoon tea at the Old School Room Tea Shop on the Woodham Ferrers main road, between 2:00-3:00pm. Telephone Sandy on 01245 225351 for more information. It may be possible to get a lift there.
What it would be good to have for the Elderly in South Woodham Ferrers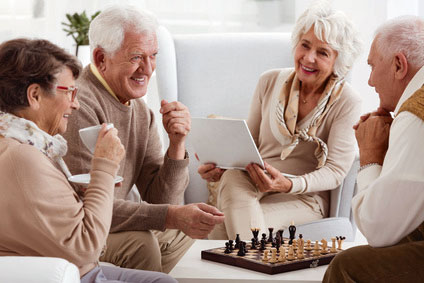 One of the most difficult parts of the day for the elderly is the evening when people are busy in their homes. There is a need for a social club where people can go, buy a drink and chat to other people. It might be nice to be able to play cards or other games. It is socially acceptable for men to visit the village hall bar or other pubs alone but women of a certain age would not feel comfortable doing so. It would be really helpful if there was a place where single elderly women could go, be greeted with a welcome and included in groups and conversations. This would necessitate the need for 'meet and greet' volunteers.
Is there anyone prepared to do this on a rota basis in South Woodham?
Coach trip days out
The South Woodham based coach company, Phillips, organise day trips and holidays to British destinations. These are popular with older residents who may no longer be able to drive. Individuals do go on these trips alone although it is always better to go with a group. This is where single pensioners could arrange days out with other pensioners from South Woodham via Facebook and have company during their day trip and potentially make new friends.